A short visit to the Mauricie national park allowed me to observe an important variation in blooms periods of species in spite of the relative nearness of the compared zones. For example in Trois-Rivières, 100 km further South, the
Bunchberry
is ripening its fruits, in the Park it's barely in flower, it's the same for
Sheep Laurel
which, mainly in buds in the Park, is difficult to find still in flower near the St-Lawrence river.

I estimate this gap of maturation of these species to be approximately 15 days. On the other hand for species with a longer period of bloom, as
Common Wood Sorrel
, the gap is not visible during a single visit. Of course, besides the latitude, the difference of altitude (10 in 30 meters for Trois-Rivières, 150 in 500 meters for the Park) is certainly a factor to consider.
This brief excursion allowed me a to add a species to my photographic collection : the Large-leaved lupine.

This first visit for my one-year-old granddaughters, allowed them to observe a funny jumping dog with long ears (a hare in fact). My 3-year-old grandson, on is side, is disappointed, he did not observe his first black bear yet! Each in its own passion ...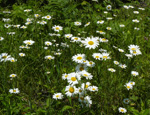 Summer's there with its multitude of blooming plants! In ditches, fields, clearings, appear
clovers
, the
Bladder campion
, cinquefoil,
Hawkweed
, buttercups, t
Meadow goatsbeard
, the
Tufted vetch
and the
Oxeye daisy
. In the forest while the
Bunchberry
and the
Stemless lady's-slipper
throw their last fires, the
Indian cucumber-root
and the
Shinleaf
begin their blooms.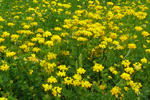 While returning to the La Gabelle Park I came across a colony of a old summer friend : the Garden bird's-foot trefoil. Better still, while collecting a few wild strawberries I discover a small unknown flower of me, it is the Snow-in-summer (that I was able to identify thanks to my invaluable book "Flore laurentienne"), escaped from gardens.



I was near the bank of St-Maurice (but 100 meters higher) when I decide to go there (pleasant ride to go, difficult way back top) because I saw a swampy clearing where I hope to find the
Larger Blue-Flag
.
It's the day of the new species (at least for me) because halfway the river spreads out in front of me a carpet of
Twin-flowers
! Farther down I effectively find my Blue-Flag, but furthermore, a other surprise, two small news ones than I would never have seen if I had not bent to take a picture of the Blue-Flag: some
Small Forget-me-not
and a Marsh speedwell.




Yet a magnificent St-Jean-Batiste with a lot of discoveries, can't wait for next Holiday !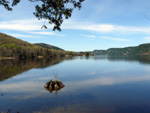 My first photo expedition to lake Mékinac of the year, the first time I go so early in spring there, most earlier I had taken pictures of the flora on lake Mékinac previously was in 2005 June 3rd. Thus, I settled down for 4 days in the camping situated in the south extremity of the lake and border in the East by the discharge of lake du Missionnaire. On my arrival I notice several species of plants in formation thus naturally a profusion of
Wild lilies
, some
Yellow Clintonia
already with floral buttons and a specimen in growths as I believe being the large-flowered bellwort, plants that up to here I had never seen, but by looking at it closer I believe rather that it is a Rose twisted-stalk, anyway I can't confirm the species before blooming, in a next expedition for the confirmation thus.



I am alone on the campsite for this first night, the main souvenir I will keep is the cold: the thermometer fell to 1 degree, my small dog usually very independent, decided to join me in my sleeping bag to stop shivering. The next day, always on the campsite, I find a colony of
Goldthreads
, a small but especially, magnificent flower. I find a lot of
Red trillium
also, but no
Painted Trillium
which should nevertheless prosper presently.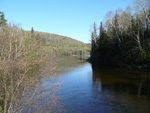 Wanting to cross the river which connects the lake du Missionaire wit lake Mekinac and which is call la Décharge, I notice that the bridge which I usually borrowed as disappeared! I find a road of avoidance but, it "shortens" the route by 2km more, across a mountain. I did this route 3 times back and forth during my stay and I must have lost at least 5 kilos! In a place where from June to September I usually find chanterelles, I find in place, early in spring, false morels, very particular certainly, but toxic. farther I find the hobblebush in semi-bloom, I say semi-bloom because only the big sterile flowers of the circumference are opened, the real flowers are in buds only at this time. These big sterile flowers serve in fact as "streetwalkers", more visible than real flowers it is them who attract the pollinators insects which once on the spot, realizing the cheating, goes on the truths flower, smaller but with nectar at least !




During my stay it was sunny and warm (at least during the day) except a small fall of hail on Sunday. I saw some woodpeakers, ducks, loons, gooses, but use to photograph plants, I am not enough fast for animals, they do not hold the pose! Only a marmot was cooperative, at least until my dog tries to sniff it.
I have also taken pictures of the following plants in bloom : Canada fly honeysuckle, Kidney-leaved violet,
Downy serviceberry
, Labrador violet and the Skunk currant with its nice skunk perfume !






Juste avant mon départ, enfin, le
Trille ondulé
s'épanouit un peu partout. Tout en rempliant ma tente je pense déjà à mon retour, quelle date serais la meilleure pour voir un maximum d'espèce en fleur ?
In January under more than 300 cms of snow, we cannot imagine that one day the landscape is going to blossom again and nevertheless, when that begins it is magnificent ! Whereas in Boisé St-Maurice the Beaked hazelnut is in flower and the
Winter Cress
brings out its floral buttons, in Boisé des Estacades it is a blooming explosion !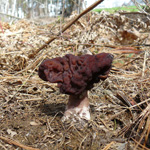 But it's at home that I made the most surprising discovery of the week, after three years without seeing it, because the only place where I knew where to find it does not exist any more: Boisé Cooke, almost completely shaved to give way to a domiciliary development, it is in my back yard under a white Pine that I find the False morel, with its headgear so particular.

Finally my first photo expedition of the year! The winter as last forever ! We could indeed say that the old joke about the four seasons in Quebec is a little bit true: the winter, after the winter, the summer and before winter! I saw my first flower this week, a
Colstfoot
, that is six days later than the previous three years.
My destination for today is the Boisé des Estacades, which I crossed from north to south and back, for a total of 5 kilometers in a snowy path.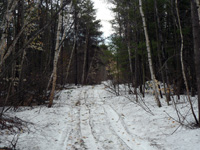 Fortunately that 4-wheels had hardened the snow otherwise only my dog, Wuchi 5 pounds wet, would have been able to go down the St-Maurice ! At first sight nothing very interesting, places without snow shows plants with persistent foliages:
Wintergreen
,
Pipsissewa
,
Sheep Laurel
, naturally nothing with flowers.


But looking closer I discover some
Mayflower
with flower buds. Unusual scene: the snow is sprinkled with Trembling aspen flowers (catkin), this makes me quite sure that the snow lingers too much this year!
Getting closer to the St-Maurice, where Grey pines are replaced by maples, a deer which drank in a small brook, jumps up in front of me and my dog and leaves. I am so amazed by this appearance that it is only after a while that I realize that I have a camera in hands !
Near the St-Maurice, there is much less snow, I find some plants which have already brought out their leaves and which augured all these magnificent flowers which we shall soon see :
Trout lilies
, the
Red trillium
and the
Two-leaved Toothwort
.



But in this period of the year, early in spring, it's on trees and shrubs that we find the most beautiful flowers, in spite of their small sizes, we could almost consider ourself in a equatorial forest !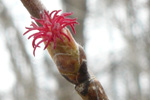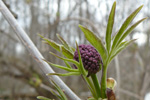 To concluded I would like to wish you and to wish me, a 2008 year rich in floral discovery and also by hoping that there will be more visible mushrooms this year than last year, as much than in 2005, exceptional year for fungi!