The notion of weeds is of the most subjective, since in most cases a plant is defined as "bad" when it harms humans, his activities or his pets or his livestock. In some cases we classify a plant, frequently an introduced, a weeds when they invade an ecosystem, harming, or so it is believed, to biodiversity.
These beautiful flowers belong to a plant that meets several of the criteria for a weed: it contains a toxic substance to humans and most other animals and can quickly and abundantly occupy a territory, this "evil" is the infamous Giant Hogweed.
Yes, the plant that displays such beautiful flower heads (Flowers) and impresses by its size is the "monster" much maligned. It is ironic that it is because of its beauty that it have been cultivated and because of that it was able to spread throughout the world.
For me, it is with mixed emotions that I have observed and photographed my first specimen. I have long believed that species imaginary, appeared in Quebec in 1990 only I knew his history and "qualities" since 1972 through a song by Peter Gabriel: The return of the Giant Hogweed. I thought at the time that the words who told the story of a plant found in the Caucasus Mountains and was invading the land, spoke of a fictitious plant. Today when I listen to the song again, I realize that it describes very well this plant.
So for me, my relationship with this plant is one of admiration and fear or perhaps one of love and hate.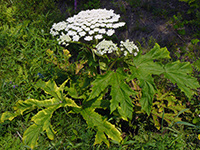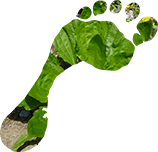 One of the main characteristics of a plant for a given territory is indigeneity. A plant for a given territory is either native or introduced, the definition of a native plant is : a species is defined as indigenous to a region if its presence in this region is the result of natural processes without human intervention.
A plant that does not meet this definition is, in turn, qualified as introduced. But this distinction - native or introduced- is artificial and often misleading. Misleading because, plant, described as native, does not mean that the species necessarily outcome of the place where it is classified as so. In fact the plant may have appeared there by simply increasing its territory by reproduction or its seeds were brought by a weather event or by an animal (other than humans).
For its part, the concept of introduced is artificial and is determined by men. Indeed it's impossible to know all human populations that occupied a territory, through the history of mankind. Therefore we fix a date, a time, beyond which a new species brought by humans in a given territory, is described as "introduced"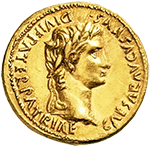 CC BY-SA 3.0 Classical Numismatic Group, Inc.
In Europe, it's a puzzle as to establish such a date, 1914 was selected for the Paris Basin, but this date can vary greatly depending on location and legislation, to 6000 years before Christ and even before in the absolute. We need only to imagine all the population migrations, including the establishment of the Roman Empire, to give us an idea of the difficulty of identifying plants introduced or not by man over a territory as Europe.
In Quebec and in the rest of North America, this limit corresponds to the establishment of the first European settlements near the XVII century (1600 and older) But this does not mean that there has been no another introduction in Quebec before this, for example by Basque fishermen around the XIV centuries or by the Vikings around the year 1000. So, while useful be aware that the indigeneity of plants (native or introduced) is not an absolute concept.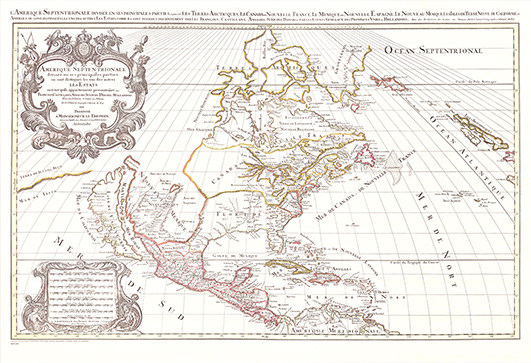 Source : GéoGratis
One of the first " modern introduced" in Quebec was the
Common plantain
(Plantago major) that served the early settlers as a drugs and for food. Native did not appreciated the plant which damaged the ecosystem close to European establishment, they have nicknamed this plant "Whiteman's-foot" or "White man's-footprint"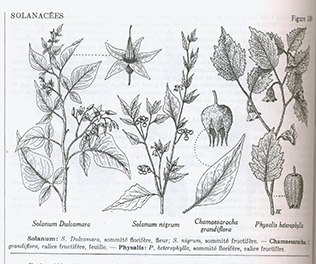 80 years ago, on April 1, Flore Laurentienne was published for the first time.
In 1935 Conrad Kirouac, better known by the name of Brother Marie-Victorin, was offering his magnificent opus on Quebec flora. More than a botanical work, Flore Laurentienne is full of ethnological, agricultural, medical and alimentary informations.
Flore Laurentienne is a gem that is also for many, including myself, the key work of our flora passion. Despite his age and the advancement of our knowledge, Flore Laurentienne remains the reference for identifying plants in Quebec.
Happy anniversary Flore Laurentienne and where ever you are, thank you Conrad Kirouac.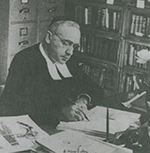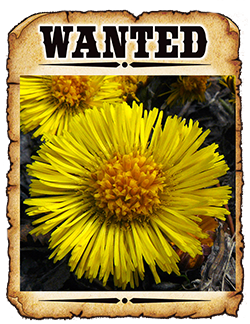 With this snow cover that lasts and running over spring, the emergence of the first wild flower will be quite an event!
The Coltsfoot is not the first of our flowers to appear, but it is the most common and the most widespread and it is visible as much in cities than countryside.
I have already photographed a
Colstfoot
as early as March 21 (2010).
It will be interesting to see how soon this flower will be visible this year, it would also be very interesting to know the date of his first appearance across Quebec.
So I invite you to share your photos of Coltsfoo, on the
Facebook page of Flore du Québec
, taken this year and indicating the place and date of shooting.