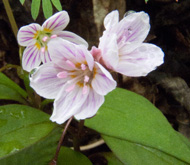 Flora of Quebec (Flore du Québec) is a website that includes many of my passions: nature, photography and web.
Although this is a personal project, all the photographs of plants are of me, I like to browse Quebec's nature with friends, my girlfriend, my family and I love to share my findings with everyone.
My inspiration, my primary source, is of course the magnificent work of Brother Marie-Victorin : Flore Laurentienne.
So I hope you enjoy, juste like I do, what this generous nature has to offer us, and do not hesitate to contact me, any comment is welcome, I do not have, and far from having, infused knowledge, and I like to get feedback, this is my biggest motivation to continue to fuel this web site
Michel Perron