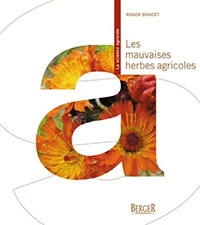 Until spring really comes here is a suggestion of reading for lovers of flora :
Les mauvaises herbes agricoles
from Roger Doucet at Editions Berger.
Although this book is aimed at first for farmers, it is also suitable for gardening enthusiasts or for the observation of flora.
We learn, among other things, that the notion of "Weeds" is related to man and his activities, Nature does not create "bad" or "good" plants, these distinctions are purely human.
This book also contains a clear identification key of the main families that inhabit our flora, most useful for any amateur botanist.
I highly recommend this book especially as I was involved, in my humble way, providing some pictures including the one for the cover page.