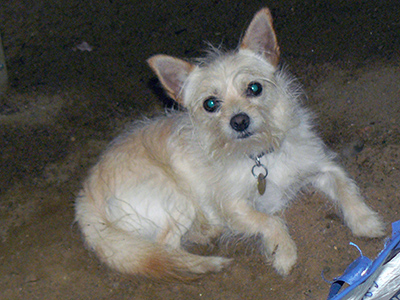 I always said that Flore du Québec was a personal project and that I was the only one who contributed to it.
I was mistaken greatly and this finding clearly appeared to me this last July.
This adventure started in 2005 during one of my walks in the forest where I found that I almost could not name any plant species that I met, that's when I started taking pictures of plants, to identify them and to publish them on the net.
But I was not alone, my little dog Wuchi was with me almost every time I traveled our beautiful nature, from Abitibi to the Cote-Nord, rain or shine, from March to December and this for 12 years.
Last April, following a stupid accident my dog made a cerebral hemorrhage, for 15 days I had to feed him by making him lick the food on my finger, giving him water with a syringe, finally he recover completely.
I was not really surprised by this recovery, because my dog's courage and desire to live were inversely proportional to its size.
During these 12 years of exploration in the forest, my dog successfully crossed several tests: a microburst that left us for 24 hours alone and shivering in the woods, he was swallowed by a mud swamp, has capsize many times in canoe with me, survived encounters with raccoons, a solitary wolf and even a bear, he was a real canine runner of the woods!
Unfortunately after his spectacular recovery his health deteriorated little by little and on July 12, 2016 I had to do euthanize.
I did not have the courage to continue the adventure without him this year but now that my mourning is done I think I owe him to continue this project and that's what I will do !
Farewell, my dear friend, you will not be forgotten.