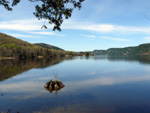 My first photo expedition to lake Mékinac of the year, the first time I go so early in spring there, most earlier I had taken pictures of the flora on lake Mékinac previously was in 2005 June 3rd. Thus, I settled down for 4 days in the camping situated in the south extremity of the lake and border in the East by the discharge of lake du Missionnaire. On my arrival I notice several species of plants in formation thus naturally a profusion of
Wild lilies
, some
Yellow Clintonia
already with floral buttons and a specimen in growths as I believe being the large-flowered bellwort, plants that up to here I had never seen, but by looking at it closer I believe rather that it is a Rose twisted-stalk, anyway I can't confirm the species before blooming, in a next expedition for the confirmation thus.



I am alone on the campsite for this first night, the main souvenir I will keep is the cold: the thermometer fell to 1 degree, my small dog usually very independent, decided to join me in my sleeping bag to stop shivering. The next day, always on the campsite, I find a colony of
Goldthreads
, a small but especially, magnificent flower. I find a lot of
Red trillium
also, but no
Painted Trillium
which should nevertheless prosper presently.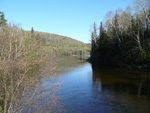 Wanting to cross the river which connects the lake du Missionaire wit lake Mekinac and which is call la Décharge, I notice that the bridge which I usually borrowed as disappeared! I find a road of avoidance but, it "shortens" the route by 2km more, across a mountain. I did this route 3 times back and forth during my stay and I must have lost at least 5 kilos! In a place where from June to September I usually find chanterelles, I find in place, early in spring, false morels, very particular certainly, but toxic. farther I find the hobblebush in semi-bloom, I say semi-bloom because only the big sterile flowers of the circumference are opened, the real flowers are in buds only at this time. These big sterile flowers serve in fact as "streetwalkers", more visible than real flowers it is them who attract the pollinators insects which once on the spot, realizing the cheating, goes on the truths flower, smaller but with nectar at least !




During my stay it was sunny and warm (at least during the day) except a small fall of hail on Sunday. I saw some woodpeakers, ducks, loons, gooses, but use to photograph plants, I am not enough fast for animals, they do not hold the pose! Only a marmot was cooperative, at least until my dog tries to sniff it.
I have also taken pictures of the following plants in bloom : Canada fly honeysuckle, Kidney-leaved violet,
Downy serviceberry
, Labrador violet and the Skunk currant with its nice skunk perfume !






Juste avant mon départ, enfin, le
Trille ondulé
s'épanouit un peu partout. Tout en rempliant ma tente je pense déjà à mon retour, quelle date serais la meilleure pour voir un maximum d'espèce en fleur ?